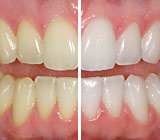 Teeth whitening is an extremely popular remedy for a lackluster smile, and with good reason: It works! So what's the best way to whiten teeth? We recommend in-office whitening treatments or at-home bleaching with custom-made flexible plastic trays. Either of these techniques will give you faster results than over-the-counter products while giving us the opportunity to monitor your individual response to the whitening process.
In-office whitening can produce dramatic results in just one visit. The bleaching solutions used in this process are the strongest available, so we will take precautions to protect your gums before we start. We will then brush the bleach onto your teeth and leave it there for about an hour. Once the session is finished and the bleach is rinsed from your teeth, you will be delighted by the results! If you want your teeth to reach their maximum brightness, a second treatment can be scheduled.
At-home bleaching with custom-made flexible plastic trays is also very effective, though you will bear a greater responsibility for sticking to the treatment regimen. We will first make a mold of your teeth that will be used to fabricate the bleaching trays. When the trays are ready, we will provide a prescription-strength bleaching solution in gel form. We will show you how to line the trays with the gel and then fit them over your teeth. You will generally need to repeat the bleaching process daily for about an hour until your desired results are achieved — usually about two weeks.
Both methods above have advantages over OTC (over-the-counter) whitening products. The most important is that we can verify that your tooth discoloration is purely a cosmetic problem and not the result of an infection or other dental problem requiring treatment. Also, we can monitor your reaction to the whitening process and make adjustments as needed. Finally, we are always available for any questions that come up before, during or after bleaching.
If you are interested in learning more about teeth whitening, please contact us today to schedule an appointment for a consultation. For more information on teeth whitening, please see the Dear Doctor magazine articles "Important Teeth Whitening Questions Answered" and "Tooth Whitening Safety Tips."