Posts for: June, 2013
By General, Cosmetic, Implant Dentistry
June 27, 2013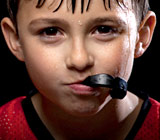 There's nothing quite like watching your son or daughter compete on the athletic field. It's a mixture of anticipation, pride — and occasionally, anxiety. Despite all the protective gear and training, kids are sometimes injured playing the sports they love. In fact, when it comes to dental injuries, teens are the most susceptible of any age group. Here's what you should know about preventing sports-related dental injuries in kids.
Of course you know that football and hockey players should always wear mouthguards, both at games and during practice. But don't forget about kids who play soccer, do gymnastics, wrestle or play basketball. According to the American Dental Association (ADA) these athletes — along with participants in about 20 other sports — also need to wear this important piece of protective gear. In fact, the ADA states that not wearing a mouthguard makes an athlete 60 times more likely to sustain dental injury!
In selecting a mouthguard, there are three basic options to choose from: the "off-the-shelf" type, the so-called "boil and bite" protector, and the custom-fitted mouthguard that we can fabricate. Let's look briefly at all three.
The first type, available at many sporting goods stores, comes in a limited range of sizes, and an unknown range of quality. It's the least expensive option, offering a minimal level of protection that's probably better than nothing.
The second type, although popular, is also limited in its protection. This one is designed to be immersed in hot water, and then formed in the mouth using finger, tongue and bite pressure. If it can be made to fit adequately, it's probably better than the first type — though it often lacks proper extensions, and fails to cover the back teeth. Also, upon impact, the rubber-like material will distort and not offer as much protection as you would like to have.
The third is a piece of quality sports equipment that's custom-made for your child's mouth (or your own). To fabricate this mouthguard, we first make a model of the individual's teeth, and then mold the protector to fit just right. Made from tough, high-quality material, it's designed to cover all teeth, back and front, without being excessively bulky. It can even be made to accommodate growing teeth and jaws. And, it's reasonable in cost.
To paraphrase the ADA's recommendation, the best mouthguard is the one you wear. A comfortable, correctly-fitted mouthguard is easy to wear — and it can help prevent dental injury, giving you one less thing to worry about. Now, if you could just get you child to keep her eye on the ball.
If you have questions about mouthguards or sports-related dental injuries, please contact us or schedule an appointment for a consultation. You can learn more in the Dear Doctor magazine articles "Athletic Mouthguards" and "An Introduction to Sports Injuries & Dentistry."
By General, Cosmetic, Implant Dentistry
June 14, 2013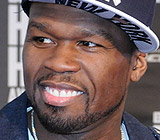 On his way to the top of the urban contemporary charts, the musician, actor and entrepreneur known as 50 Cent (born Curtis James Jackson III) earned his street credibility the hard way; his rise from youthful poverty to present-day stardom is chronicled in many of his rhymes. So when it came time for the rapper to have cosmetic work performed on his teeth, he insisted on doing it in his own way.
"I told [the dentist] to leave [my front teeth] a little bigger than the other ones, because I need to still see me when I look in the mirror," he told his co-host on the New York radio station Power 105.1. "Don't give me no whole 'noter guy — I like me!"
We understand how 50 Cent feels — in fact, we think it's a perfectly reasonable request.
Cosmetic dentistry has come a long way in recent years, as we strive to meet the increasing expectations of our patients. We realize that different people have different perceptions of what makes a smile attractive — and that in dental aesthetics, beauty really is in the eye of the beholder. That's why, before we begin cosmetic work, we want to hear what you like and don't like about your smile as it is now. In addition, we can also perform what is called a "smile analysis."
This procedure doesn't cause any discomfort — but it's a crucial part of cosmetic enhancement. In doing the analysis, we look at the various parts of an individual's smile: the spacing, size and alignment of the teeth; the health and position of the gum line; the relationship of the upper and lower jaws; and the relative shape and size of the face. All of these features combine to make a person's smile unique. By looking at them closely, we can help determine the best way for you to improve your smile.
But how can you tell if the cosmetic changes you're contemplating will end up being just right for you? Fortunately, with today's technology, it's easier than ever. Computer imaging offers a chance to visualize the final outcome before we start working on your teeth; it's even possible to offer previews of different treatment options. If you want to go a bit further, we may be able to show you a full-scale model of your new smile.
In some situations, we can even perform a provisional restoration — that is, a trial version of the new smile, made with less permanent materials. If the "temporary" smile looks, feels, and functions just right, then the permanent one will too. If not, it's still possible to make changes that will make it work even better.
Whether you're thinking about having teeth whitening, cosmetic bonding, porcelain veneers, or dental implants to improve your smile, you probably have a picture in your mind of how the end result should look. Will your teeth be perfectly even and "Hollywood white" — or more "natural," with slight variations in size, spacing and color allowed? Either way, we can help you get the smile you've always wanted.
If you would like more information about smile makeovers and options in cosmetic dentistry, please contact us or schedule an appointment for a consultation. You can learn more by reading the Dear Doctor magazine article "Cosmetic Dentistry."
Fedele E. Vero, D.D.S., P.C.
Christine N. Fumo, D.M.D.
Alec J. Ganci, D.D.S
Yonkers, NY Family Dentist
General, Cosmetic and Implant Dentistry
626 McLean Avenue




Yonkers

,

NY

10705
(914) 476-0100