Posts for: April, 2014
By General, Cosmetic, Implant Dentistry
April 17, 2014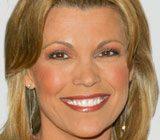 Here's an interesting tidbit of information on Wheel of Fortune host Vanna White: like many people, she grinds her teeth at night. In a detailed interview with Dear Doctor magazine, Vanna explained how she had to replace a filling in a back tooth several times because of her grinding habit. Eventually, she had her dentist make her a nightguard to protect her famous smile.
"I really try to sleep with it every night," Vanna told the magazine. "I try to keep it on my nightstand so when I go to bed, I remember to put it in. Or I will put it by my toothbrush so I can put it in after brushing my teeth at night."
The habit of teeth grinding or clenching is often associated with stress and/or sleep deprivation. It is referred to as "parafunctional" ("para" – outside, "function" – normal), meaning it can generate biting forces well outside the normal range — perhaps 10 times normal. This excessive force can affect many areas of the oral system. Teeth may become worn, chipped or loose; jaw joints or muscles can go into spasm; and some grinders (or "bruxers" as they are also called) may even experience discomfort of the head, ears, neck or back. Many times, a person with a grinding habit does not become aware of it until it is pointed out by a sleep partner or dental professional.
Like Vanna White's dentist, we often recommend a nightguard to those with nocturnal bruxing habits. It is made of a very thin, wear-resistant plastic that fits over the biting surfaces of the upper teeth only. The lower teeth are then free to glide or skate over the guard, which prevents them from biting into the upper teeth. Some people wear their guards during the day if they tend to clench their teeth when under stress.
If you are concerned about teeth grinding or interested in learning more about nightguards, please contact us today to schedule an appointment for a consultation. If you would like to read Dear Doctor's entire interview with Vanna White, please see "Vanna White." Dear Doctor also has more on "Stress & Tooth Habits."
By General, Cosmetic, Implant Dentistry
April 02, 2014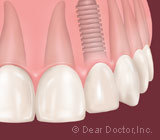 Dental implants provide a number of advantages as a tooth replacement system, like durability and imperviousness to decay or gum disease. Bone naturally grows and attaches to the titanium posts, strengthening the attachment over time, and they don't cause damage to adjacent teeth. Best of all, an implant and its crown's life-like appearance can rejuvenate a person's smile, transforming their appearance and self-image.
But it takes time to complete treatment with dental implants — months of healing and sufficient bone growth to anchor the implant before affixing the permanent crown. If the natural tooth requires extraction first, this may add another step — and more healing time — to the process.
In recent years, though, patients who meet certain criteria are able to shorten the time after a tooth extraction with "immediate" implants. In this case, rather than waiting for the socket to heal following a tooth extraction, the implant is placed directly into the socket immediately after the extraction. Immediate implants thus combine tooth extraction and implantation into one procedure.
For the best results, the extraction must be done very carefully to avoid as little damage as possible to surrounding tissue and bone. It's also important for the implant to be completely immobilized within the bone with no movement at all. It will stabilize further as bone growth (or ossification) occurs over time.
It's also possible to attach a provisional crown to the immediate implant for aesthetic purposes. This isn't the permanent crown that will be affixed after bone growth around the implant; for that reason it's made in such a way that it doesn't contact its counterpart tooth in the opposing jaw. Although the implant is completely immobilized mechanically, it's still not ready for the full forces of normal biting and chewing. After two to three months, the implant should be fully integrated with the surrounding bone and ready for the permanent crown.
Immediate implants are best for the more visible front teeth that encounter less biting force than back teeth. The technique not only reduces healing time, but enables patients to gain an "immediate" aesthetic benefit — and something worth smiling about.
If you would like more information on immediate implants or other dental implant options, please contact us or schedule an appointment for a consultation. You can also learn more about this topic by reading the Dear Doctor magazine article "Immediate Implants."
Fedele E. Vero, D.D.S., P.C.
Christine N. Fumo, D.M.D.
Alec J. Ganci, D.D.S
Yonkers, NY Family Dentist
General, Cosmetic and Implant Dentistry
626 McLean Avenue




Yonkers

,

NY

10705
(914) 476-0100