Posts for tag: mouth sore
By General, Cosmetic, Implant Dentistry
December 04, 2020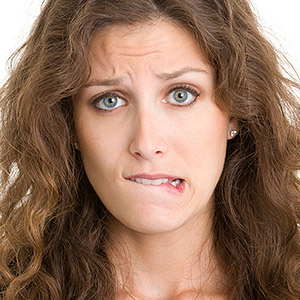 As the old Fifties song goes, "Little things mean a lot." They can also be the most irritating, like a hangnail, a papercut—or a certain kind of oral sore. Although rarely concerning to health, this particular kind of "bump" in the mouth can be unnerving.
Although known as a traumatic fibroma, it's not as dire as it sounds: It's simply a small wound created when your inside cheek gets in the "line of fire" between your teeth while biting or chewing. It's an experience most of us have had, and though it's a minor occurrence, it can make us wince with pain.
But the pain usually lasts only a few seconds—until the next time, which is a distinct possibility. The body creates a protective callous over the wound made of fibers (hence the name fibroma) of a protein called collagen. This creates a rise in the skin surface that increases the chances the area will again get in the way of the teeth and be bitten. Each bite leads to another layer of collagen, a more prominent rise and even greater probability of another bite.
Rather than let this irritating situation repeat itself, you can undergo a minor surgical procedure to remove the fibroma. Usually performed be an oral surgeon or periodontist, the area is numbed first with a local anesthetic and the fibroma removed with a scalpel; the resulting wound is then closed with a few stitches or a laser, in which case no stitches are necessary. As a result, the cheek surface flattens out and becomes less likely to get in between the teeth.
The dentist may also preserve some of the removed tissue and submit it for a biopsy to check for any cancer cells or other abnormalities. You shouldn't be concerned about this: Examining excised tissue is a routine step performed for a variety of surgical procedures. It's used to verify the tissue in question is benign, which in this case is the vast majority of the time.
After the procedure, you might experience some minor discomfort for a few days, usually manageable with a mild pain reliever like aspirin or ibuprofen. The procedure itself only takes about fifteen minutes, but it can provide you lasting relief from that bedeviling little sore in your mouth.
If you would like more information on treating mouth sores, please contact us or schedule an appointment for a consultation. You can also learn more about this topic by reading the Dear Doctor magazine article "Common Lumps and Bumps in the Mouth."
By General, Cosmetic, Implant Dentistry
August 06, 2020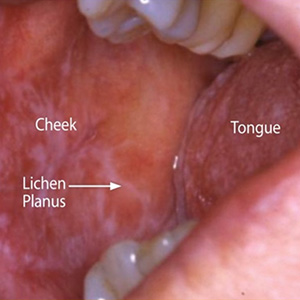 Looking in the mirror, you probably focus on your teeth and gums—i.e., your smile. Your dentist, though, will take the time to look deeper into your mouth, searching for anything out of the ordinary. That could be a type of mouth sore known as lichen planus.
Lichen planus are lesions that can appear on skin or mucus membranes, including inside the mouth. The name comes from their resemblance to lichens, a fungus found on trees or rocks (although the sore itself isn't fungi). As such, they often have a lacy pattern of lines emanating from purplish bumps.
Again, the first indication you have such a condition may come from your dentist. Sometimes, though, you may notice greater sensitivity to spicy or acidic foods and, if the gums are affected, irritation when you eat or brush.
If you find out you have lichen planus, don't be alarmed—it usually doesn't pose harm to your health and it's not contagious. Its appearance, though, could be mimicked by more harmful medical conditions, so your dentist will want to confirm the lesion observed is truly lichen planus.
It's routine, then, for your dentist to excise a small sample of the sore's tissue and send it to a pathology lab for biopsy. Although results will more than likely confirm lichen planus or some other benign lesion, it's better to err on the side of caution and ensure you're not dealing with something more serious.
If you are diagnosed with lichen planus, you may need to take steps to manage symptoms. In most people, the sore will go away on its own, although there's no guarantee it won't reappear sometime later. In the event it lingers, your dentist may prescribe a topical steroid to help ease any discomfort.
You can also minimize a future outbreak by practicing effective daily oral hygiene to reduce the bacterial populations that may contribute to the condition. And when you're symptomatic, try avoiding spicy or acidic foods like citrus, peppers or caffeinated beverages.
Lichen planus is more bothersome than harmful. Taking the above steps can help you avoid it or deal with it more effectively when it occurs.
If you would like more information on lichen planus, please contact us or schedule an appointment for a consultation. You can also learn more about this topic by reading the Dear Doctor magazine article "Lichen Planus: Mouth Lesions That are Usually benign."