Posts for tag: pediatric dentistry
By General, Cosmetic, Implant Dentistry
April 04, 2013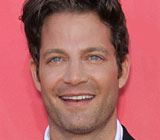 When it comes to dental health, you might say celebrity interior designer and television host Nate Berkus is lucky: Unlike many TV personalities, he didn't need cosmetic dental work to achieve — or maintain — his superstar smile. How did he manage that? Nate credits the preventive dental treatments he received as a youngster.
"I'm grateful for having been given fluoride treatments and sealants as a child. Healthy habits should start at a young age," he told an interviewer from Dear Doctor magazine. We couldn't have said it better — but let's take a moment and examine exactly what these treatments do.
Fluoride treatment — that is, the topical (surface) application of a concentrated fluoride gel to a child's teeth — is a procedure that's often recommended by pediatric dentists. Although tooth enamel is among the hardest substances in nature, fluoride has been shown to make it more resistant to tooth decay. And that means fewer cavities! Studies show that even if you brush regularly and live in an area with fluoridated water, your child could still benefit from the powerful protection of fluoride treatments given at the dental office.
Another potent defense against cavities is dental sealants. Despite your child's best efforts with the toothbrush, it's still possible for decay bacteria to remain in the "pits and fissures" of the teethâ??those areas of the molars, for example, which have tiny serrated ridges and valleys where it's easy for bacteria to grow. Dental sealants fill in and protect vulnerable areas from bacterial attack, greatly decreasing the risk that future dental treatment will be required.
Why not take a tip from our favorite celebrity interior designer, and ask about cavity-preventing treatments for your children's teeth? If you would like more information about fluoride treatments or dental sealants, please contact us for a consultation. You can learn more in the Dear Doctor magazine articles "Topical Fluoride" and "Sealants for Children."
By General, Cosmetic, Implant Dentistry
February 17, 2013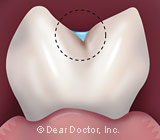 Protecting your children is one of your most important roles as a parent or caregiver. Dental sealants are one way you can protect your children's teeth from the ravages of tooth decay, drilling and fillings — and they can be applied simply, comfortably and quickly right here in our office.
What is a dental sealant?
A dental sealant is a thin, plastic film that is painted onto the tiny grooves on the chewing surfaces of the back teeth (usually the premolars and molars) to prevent caries (cavities) and tooth decay. And by allowing us to use sealants to seal these little nooks and crannies where your child's toothbrush can't reach, you will dramatically reduce their chances for developing tooth decay. This one, simple and quick office visit could save you both money and time with fewer dental visits and healthier, cavity-free teeth.
So will sealants guarantee no (or no more) cavities?
No, just like life, there are few guarantees. Your child's oral hygiene, regular dental visits, fluoride, sugar consumption and genetics are the other important factors that will determine to what degree your child experiences tooth decay. However, research shows that pit and fissure (chewing surface) decay accounts for approximately 43% of all decayed surfaces in children aged 6 to 7, even though the chewing surfaces (of the back or posterior teeth) constitute only 14% of the tooth surfaces at risk. This demonstrates the vulnerability of the chewing surfaces of the posterior teeth to decay. By placing a protective seal over the areas of teeth at risk, you can effectively and proactively protect your children's teeth.
How long do sealants last?
Research has shown that some sealants can last up to 10 years. However, if you opt for sealants for your children's teeth, we will closely monitor them with each office visit to ensure that they are still doing their job. As needed, we can apply more sealant.
By General, Cosmetic, Implant Dentistry
September 10, 2012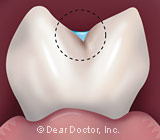 The eruption of your child's first permanent teeth is a milestone in his or her development. As parents, you want to help your child preserve and protect their new permanent teeth so that they can last a lifetime. Dental sealants are one easy, simple, and inexpensive way to protect them from decay.
How do cavities develop?
The back teeth (premolars and molars) are formed with deep grooves on their biting surfaces that we call "pits and fissures." These crevices are too deep for toothbrush bristles to reach. Bacteria can therefore grow and thrive inside them. The acid produced by these bacteria begins to dissolve the tooth enamel, starting the decay process.
Are new teeth more vulnerable?
Yes, the enamel surface of newly erupted teeth is more permeable and less resistant to tooth decay. As the enamel matures, it becomes more resistant.
How can you prevent decay in these new teeth?
Good oral hygiene habits, nutrition (including low sugar consumption), together with fluoride, sealants, and regular dental visits strengthen the teeth and can dramatically reduce tooth decay.
How does fluoride protect these teeth?
Fluoride makes the enamel surface harder and more impermeable and, therefore, less susceptible to acid attack and decay. Fluoride adds some protection to the deep pits and fissures of the teeth but they are still at high risk because of their shape and they often need further protection.
What are sealants and how do they work?
Sealants are protective coatings placed in the tiny pits and fissures to seal them from the bacteria and acids that promote decay. They actually "seal" the pits and fissures to prevent decay and can be used in the treatment of very early decay by arresting it. Greater use of sealants could reduce the need for subsequent treatment and prolong the time until treatment may become necessary.
Contact us today to schedule an appointment or to discuss your questions about dental sealants for your children. You can learn more about them by reading the Dear Doctor magazine article "Sealants for Children."
Fedele E. Vero, D.D.S., P.C.
Christine N. Fumo, D.M.D.
Alec J. Ganci, D.D.S
Yonkers, NY Family Dentist
General, Cosmetic and Implant Dentistry
626 McLean Avenue




Yonkers

,

NY

10705
(914) 476-0100