Posts for tag: tooth decay
By General, Cosmetic, Implant Dentistry
May 31, 2013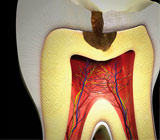 For years the main approach to treating tooth decay (or caries) could best be described as "drill and fill" — remove the decayed tooth material and fill the resulting cavity. But a new approach has come to prominence that addresses not only the results of decay, but seeks to identify and treat the underlying conditions that caused the decay in the first place, and may continue to infect other teeth.
This approach is known as Caries Management By Risk Assessment or CAMBRA. Rather than a "One Size Fits All" approach, CAMBRA individualizes treatment and prevention options by first assessing your own individual risk for tooth decay.
We base this assessment on what might be called the Caries Balance. On one side are factors that increase your risk of tooth decay, easily remembered by the acronym BAD: Bad bacteria that produces acid; Absence of healthy, functional saliva that neutralizes the effects of acid; and Dietary habits that are heavy with sugars, acids and between meal snacking. On the other side are protective factors that reduce your risk, known as SAFE — Saliva and sealants that protect the surfaces of teeth; Antimicrobials that help rid the mouth of bad bacteria; Fluoride, which strengthens teeth against de-mineralization caused by acid; and an Effective diet.
The assessment first involves a survey of questions about your hygiene habits, dental history and lifestyle: Do you brush twice and floss once daily? Do you live in a fluoridated area or use fluoride mouth rinse? Do you smoke? Have you had frequent cavities in the past? These and other questions, along with a complete dental exam and acid level testing, can give us a more accurate understanding of your risk and how best to incorporate treatment that reduces it even further.
Using CAMBRA, you and our dental team develop a true partnership that actually transforms your dental health from simply treating existing caries, to preventing future occurrences.
If you would like more information on the CAMBRA approach to caries prevention, please contact us or schedule an appointment for a consultation. You can also learn more about this topic by reading the Dear Doctor magazine article "Tooth Decay: How to assess your risk."
By General, Cosmetic, Implant Dentistry
February 17, 2013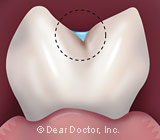 Protecting your children is one of your most important roles as a parent or caregiver. Dental sealants are one way you can protect your children's teeth from the ravages of tooth decay, drilling and fillings — and they can be applied simply, comfortably and quickly right here in our office.
What is a dental sealant?
A dental sealant is a thin, plastic film that is painted onto the tiny grooves on the chewing surfaces of the back teeth (usually the premolars and molars) to prevent caries (cavities) and tooth decay. And by allowing us to use sealants to seal these little nooks and crannies where your child's toothbrush can't reach, you will dramatically reduce their chances for developing tooth decay. This one, simple and quick office visit could save you both money and time with fewer dental visits and healthier, cavity-free teeth.
So will sealants guarantee no (or no more) cavities?
No, just like life, there are few guarantees. Your child's oral hygiene, regular dental visits, fluoride, sugar consumption and genetics are the other important factors that will determine to what degree your child experiences tooth decay. However, research shows that pit and fissure (chewing surface) decay accounts for approximately 43% of all decayed surfaces in children aged 6 to 7, even though the chewing surfaces (of the back or posterior teeth) constitute only 14% of the tooth surfaces at risk. This demonstrates the vulnerability of the chewing surfaces of the posterior teeth to decay. By placing a protective seal over the areas of teeth at risk, you can effectively and proactively protect your children's teeth.
How long do sealants last?
Research has shown that some sealants can last up to 10 years. However, if you opt for sealants for your children's teeth, we will closely monitor them with each office visit to ensure that they are still doing their job. As needed, we can apply more sealant.
Fedele E. Vero, D.D.S., P.C.
Christine N. Fumo, D.M.D.
Alec J. Ganci, D.D.S
Yonkers, NY Family Dentist
General, Cosmetic and Implant Dentistry
626 McLean Avenue




Yonkers

,

NY

10705
(914) 476-0100