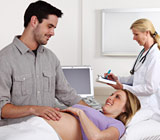 Already read every "What to Expect" book twice over? Think you know something about how pregnancy affects your teeth and gums — and vice versa? OK, ace — test your knowledge by taking the quiz below. No peeking at the answers!
Myth or fact: The calcium in baby's teeth comes from mom's teeth.
MYTH. Calcium is needed to build baby's teeth and bones, but it should come primarily from the mother's diet, not her body. If an expectant mom's diet contains too little calcium, however, this essential mineral may be supplied from calcium stored in her bones. That's one reason why a proper diet — with an adequate intake of dairy products, plus dietary supplements, if recommended — is important throughout pregnancy.
Myth or fact: Developing symptoms of periodontal disease is common during pregnancy.
FACT. The levels of many hormones, including progesterone, are higher during pregnancy. When periodontal disease is present, progesterone stimulates the body to produce prostaglandins, which cause inflammation of blood vessels in the gum tissue. This can result in a disease called pregnancy gingivitis. Excess growths of gum tissue called "pregnancy tumors" may also develop. These benign growths are probably related to dental plaque.
Myth or fact: Untreated dental infections pose a risk to the fetus as well as the mother.
FACT. Studies have shown that pregnant women with severe periodontal disease are at greater risk for preterm birth and low birth weight babies, and may be susceptible to an increased rate of pre-eclampsia, a serious complication. This seems to be due to the fact that oral bacteria can trigger inflammatory responses in other parts of the body — even the placenta. That's why a dental evaluation is so important at the first sign of a potential problem.
Myth or fact: All moms should take fluoride supplements to help their babies form strong teeth.
MYTH (for now). The benefits of parental fluoride supplements are poorly studied, and at present remain controversial. Although baby's teeth begin forming in the second month, fluoride works best after the teeth have erupted in the mouth. So, at present, this practice isn't recommended by the American Academy of Pediatric Dentistry.
Myth or fact: Once your baby is born, it's OK to feed them pre-chewed food or slobber over them.
Myth (we gave that one away). First of all, it's gross. Second, while your baby isn't born with the bacteria that cause tooth decay, this behavior can transmit them from you to her, causing dental problems down the road. So don't do it. But do come in for a dental evaluation as soon as you know you're expecting. And have a safe and healthy pregnancy!
If you would like more information about pregnancy and oral health, please contact us or schedule an appointment for a consultation. You can also learn more about this topic by reading the Dear Doctor magazine articles "Pregnancy and Oral Health," and "Expectant Mothers."