Posts for: September, 2013
By General, Cosmetic, Implant Dentistry
September 23, 2013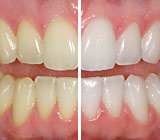 Teeth whitening is an extremely popular remedy for a lackluster smile, and with good reason: It works! So what's the best way to whiten teeth? We recommend in-office whitening treatments or at-home bleaching with custom-made flexible plastic trays. Either of these techniques will give you faster results than over-the-counter products while giving us the opportunity to monitor your individual response to the whitening process.
In-office whitening can produce dramatic results in just one visit. The bleaching solutions used in this process are the strongest available, so we will take precautions to protect your gums before we start. We will then brush the bleach onto your teeth and leave it there for about an hour. Once the session is finished and the bleach is rinsed from your teeth, you will be delighted by the results! If you want your teeth to reach their maximum brightness, a second treatment can be scheduled.
At-home bleaching with custom-made flexible plastic trays is also very effective, though you will bear a greater responsibility for sticking to the treatment regimen. We will first make a mold of your teeth that will be used to fabricate the bleaching trays. When the trays are ready, we will provide a prescription-strength bleaching solution in gel form. We will show you how to line the trays with the gel and then fit them over your teeth. You will generally need to repeat the bleaching process daily for about an hour until your desired results are achieved — usually about two weeks.
Both methods above have advantages over OTC (over-the-counter) whitening products. The most important is that we can verify that your tooth discoloration is purely a cosmetic problem and not the result of an infection or other dental problem requiring treatment. Also, we can monitor your reaction to the whitening process and make adjustments as needed. Finally, we are always available for any questions that come up before, during or after bleaching.
If you are interested in learning more about teeth whitening, please contact us today to schedule an appointment for a consultation. For more information on teeth whitening, please see the Dear Doctor magazine articles "Important Teeth Whitening Questions Answered" and "Tooth Whitening Safety Tips."
By General, Cosmetic, Implant Dentistry
September 13, 2013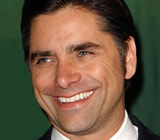 We're always tickled to see dentists represented in popular culture, especially when portrayed by an actor as handsome as John Stamos. On the hit television show Glee, Stamos played a dentist who made sure the glee club members cleaned up their act when it came to oral hygiene — though perhaps he used a bit too much anesthesia to achieve this admirable goal. While under his care — and lots of sedation — several Glee characters had music-infused hallucinations in which they danced and sang with pop star Britney Spears.
Far-fetched? No doubt. Still, it's worth mentioning that sedation has its place in dentistry. In fact, if you are someone who tends to get anxious or even fearful about dental treatment, you should know that sedation can help you relax both mind and body so you can feel peaceful rather than anxious in the dentist's chair. And that's the whole point: Fear of pain should not stand in the way of your getting the care that will keep you healthy and allow you to keep your teeth for as long as possible.
You may not know this, but when you are afraid, your threshold for pain is actually lower. You become hypersensitive to every sensation and sound, and you tense your muscles. Fear and anxiety trigger the release of certain chemicals that put you in "fight or flight" mode. In this heightened state of alert you experience more pain during and even after treatment.
The good news is that this response can virtually be eliminated with various oral sedatives and/or with nitrous oxide, which is inhaled. Both treatments will allow you to let your guard down and relax. Your apprehension and hypersensitivity to pain will disappear, even though you are still conscious. And when you are relaxed, we are better able to focus on the task at hand, knowing that you are comfortable.
The sedatives used in dentistry have been subjected to rigorous testing and have a strong safety record backed by decades of use. Several even have "amnesic" properties, meaning that you will remember little to nothing of your treatment — unless, of course, you end up singing and dancing with Britney Spears!
If you would like more information about sedation in dentistry, please contact us or schedule an appointment for a consultation. You can also learn more by reading the Dear Doctor magazine article "Oral Sedation Dentistry." Dear Doctor also has more on "Overcoming Dental Fear & Anxiety."