Posts for tag: dental implant
By General, Cosmetic, Implant Dentistry
October 31, 2019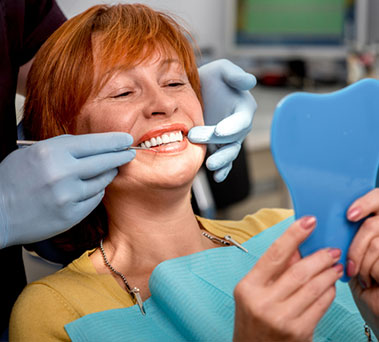 When you hear the word "surgery," your first thought might be of a high-charged operating room with a surgeon operating intently as a nurse mops sweat from their brow. While there are high-stakes surgeries, most aren't quite that dramatic.
Dental implant surgery falls into the latter category. It does qualify as a surgical procedure because we make incisions and tissue alterations for the implant. But it's no more rigorous than a surgical tooth extraction.
Still, if you're new to implant surgery, it's natural to feel some apprehension about it. To calm any nervousness, here's a rundown of what to expect before, during and after the procedure.
Pre-Planning. Implant surgery is usually a routine affair because of meticulous planning beforehand. Often, we map out the implant site using CT scanners or other high-level imaging, identifying obstacles like nerves, blood vessels and sinus cavities, verifying there's enough bone present to support an implant. With this information we can create a surgical plan or guide for placement in the mouth to accurately situate the implant.
Site Prep. On the day of the surgery we'll first administer local anesthesia to numb the entire work area to pain. We'll start with a few small gum incisions to expose the bone. Then using the surgical plan or guide, we'll create a small channel for the implant with a drilling sequence that successively enlarges it until we achieve the best fit for the implant.
Implant Placement. Once we've completed drilling the channel, we'll remove the implant from its sterile packaging and install it in the channel. After we've made any necessary adjustments and verified proper placement with x-rays, we'll suture the gum tissue back into place.
After the Surgery. You might experience mild to moderate discomfort afterward that's usually manageable with over-the-counter pain relievers like ibuprofen or acetaminophen. We can, if necessary, prescribe medication if you require something stronger. We may also prescribe an anti-bacterial mouth rinse for a short time to reduce the risk of infection.
After the implant has integrated with the bone which usually takes about 8-12 weeks, we'll install your life-like crown or restoration. Your new smile and improved dental function will be well worth the process.
If you would like more information on the process for obtaining dental implants, please contact us or schedule an appointment for a consultation. You can also learn more about this topic by reading the Dear Doctor magazine article "Dental Implant Surgery."
By General, Cosmetic, Implant Dentistry
December 10, 2013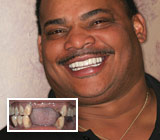 This is the story of a well-known man, fearless in most respects, who was afraid of the dentist. Even though his fears had resulted in neglect and serious damage to his teeth, modern dentistry and a talented dental team were able to restore his smile to health. If you share this fear, his story may inspire you to take action.
We're talking about William Perry, former defensive lineman and fullback for the Chicago Bears. Here is a man who could fearlessly face a football squad — but not a visit to the dentist. Nicknamed "The Refrigerator" for his 380-pound massive frame, Perry played for ten years in the NFL before retiring in 1994. Since retiring he founded and operated a construction company in South Carolina in addition to making celebrity appearances.
With his celebrity in mind, a team composed of a talented restorative dentist, implant surgeon, and lab technician agreed to give "The Fridge" a makeover. After discussing modern technology and virtually pain-free dentistry with him, they managed to overcome Perry's fears. "I had been in constant pain for many years and I neglected myself, not having had any dental care for over 20 years, not even emergency care. Unfortunately, as I grew older my teeth started to get loose," Perry told an interviewer. He had lost many teeth and became known for his gap-toothed smile.
Perry had severe gum disease and many of his remaining teeth were loose. In the past his only option would have been a full set of dentures. But his new dental team was able to place dental implants (permanent tooth replacements) supporting fixed bridges. In most cases dental bridges are attached to healthy teeth, but in Perry's case the implants served as anchors for the bridges. They also stabilized his jawbone, which would otherwise "resorb" or melt away after his teeth were lost. This is important because it helps preserve the contours of his face.
After careful planning "The Fridge" had eight dental implants placed in his upper jaw and seven in his lower. The final bridgework was completed four months later. It turned out that even though the gap between his teeth had become his trademark, "the Fridge" never really liked it. He was thrilled with his new smile.
Even if you have some fears, don't hesitate to follow Perry's example and make an appointment with us for a consultation about dental implants, smile makeovers, or bridgework. For more information about William "The Refrigerator" Perry, see the Dear Doctor magazine article "How Immediate Implants Saved 'Refrigerator' Perry's Smile."
By General, Cosmetic, Implant Dentistry
January 15, 2013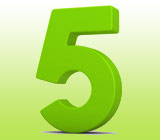 Lost teeth can cause a host of problems, including a loss of your jaw bone and a collapsing appearance of your face, along with difficulty chewing and speaking.
Clearly, it is important to replace missing teeth as soon as possible. Options for replacement include the more traditional methods and the newest technique — dental implants. We believe that implants are your best choice for the following reasons.
Implants prevent bone loss.

Dental implants are substitute tooth roots. Like the roots of your original teeth, they stabilize the bone into which they extend — but in a different way.

The part of the bone that encases the teeth is called alveolar bone, from the word root meaning "sac." This bone has a special relationship with the teeth it surrounds. It develops as they first erupt into the mouth. If they are lost, the alveolar bone goes, too. It resorbs, or melts away, giving an impression that the bone, gums, and sometimes the lips are collapsing.

Implants are made of titanium, which has the ability to join biochemically to bone. It takes the place of the original tooth root and prevents resorption.

Implants support adjacent teeth.

Your teeth work in harmony, an all for one, one for all relationship with each other. If one is missing, the remaining teeth will slowly move and shift causing them to receive forces that may not be well received. Losing any tooth increases the pressure on the remaining teeth. Losing a back (posterior) tooth can put pressure on the front teeth and they can be forced out of position. All these movements can change a person's appearance as well as in their ability to speak, bite and chew.

They are easier to clean than "traditional" options.

Fixed bridges are non-removable tooth replacements that attach to adjacent natural teeth. These teeth that are adjacent to the missing tooth have to be cut into small peg shapes on which the bridge is attached. The removal of their enamel may make them more prone to tooth decay and gum disease.

Older replacement methods include removable options such as plastic "flippers" and partial dentures. These replacements rest on the teeth and gums, making the teeth they attach to receive greater pressure causing more mobility. In addition, they exert pressure on the gums, causing additional bone loss and increasing the potential for bone loss on the neighboring teeth.

Full dentures, in cases where all teeth are missing, are kept in place by pressing on the gum tissues. This causes even more pressure on the bone, leading to bone loss and changing facial structures.

They are longer lasting.

Studies have shown that removable partial dentures are replaced about every five years; bridges are only 67% successful at 15 years; and implants are over 95% successful for 20 or more years.

They are cost effective in the long term.

Because implants last longer than other alternative tooth replacements, they may seem more expensive at first; but they will be cost effective over the long term.
Contact us today to schedule an appointment to discuss your questions about dental implants. You can also learn more by reading the Dear Doctor magazine article "Dental Implants. Evaluating Your Options."
Fedele E. Vero, D.D.S., P.C.
Christine N. Fumo, D.M.D.
Alec J. Ganci, D.D.S
Yonkers, NY Family Dentist
General, Cosmetic and Implant Dentistry
626 McLean Avenue




Yonkers

,

NY

10705
(914) 476-0100