Posts for tag: dental injury
By General, Cosmetic, Implant Dentistry
January 23, 2014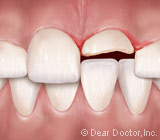 Tooth decay and other oral diseases aren't the only dangers your teeth face — accidental injuries also pose a risk. Fortunately, much can be done to save injured teeth, if you act quickly.
Dental injuries where part of the enamel crown has chipped off are the most common. Even if only one tooth appears damaged, adjacent teeth and bone might also have been damaged internally. Most chip injuries can be repaired either by reattaching the broken crown or with a tooth-colored filling or veneer. If the damage has extended into the inner tooth pulp then a root canal treatment might ultimately be necessary.
Teeth that have been knocked loose from normal alignment (dislodged) or where the entire tooth with its root has separated from the socket (avulsed) are rare but severe when they occur. It's imperative to see a dentist as soon as possible — even more than five minutes' of elapsed time can drastically reduce the tooth's survivability. Dislodged teeth are usually splinted to adjacent teeth for several weeks; we would then carefully monitor the healing process and intervene with endodontic treatment (focused on the tooth's interior) should something unfavorable occur.
With the possible exception of a primary (baby) tooth, an avulsed tooth should be placed back in the socket as soon as possible. This can be done by someone on scene, as long as the tooth is handled gently, the root not touched, and the tooth rinsed with cold, clean water if it has become dirty. If no one is available to do this, the tooth should be placed in milk to avoid drying out the root, and the patient and tooth transported to a dentist immediately. Once in the socket, the treatment is similar as for a dislodged tooth with splinting and careful watching.
The damaged tooth should be checked regularly. Your body's defense mechanism could still reject it, so there's a danger the root could be eaten away, or resorbed. Some forms of resorption can't be treated — the aim then is to preserve the natural tooth for as long as possible, and then replace it with a life-like restoration to regain form and function.
If you would like more information on the treatment of injured teeth, please contact us or schedule an appointment for a consultation. You can also learn more about this topic by reading the Dear Doctor magazine article "Trauma & Nerve Damage to Teeth."
By General, Cosmetic, Implant Dentistry
June 27, 2013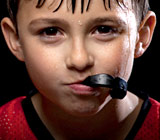 There's nothing quite like watching your son or daughter compete on the athletic field. It's a mixture of anticipation, pride — and occasionally, anxiety. Despite all the protective gear and training, kids are sometimes injured playing the sports they love. In fact, when it comes to dental injuries, teens are the most susceptible of any age group. Here's what you should know about preventing sports-related dental injuries in kids.
Of course you know that football and hockey players should always wear mouthguards, both at games and during practice. But don't forget about kids who play soccer, do gymnastics, wrestle or play basketball. According to the American Dental Association (ADA) these athletes — along with participants in about 20 other sports — also need to wear this important piece of protective gear. In fact, the ADA states that not wearing a mouthguard makes an athlete 60 times more likely to sustain dental injury!
In selecting a mouthguard, there are three basic options to choose from: the "off-the-shelf" type, the so-called "boil and bite" protector, and the custom-fitted mouthguard that we can fabricate. Let's look briefly at all three.
The first type, available at many sporting goods stores, comes in a limited range of sizes, and an unknown range of quality. It's the least expensive option, offering a minimal level of protection that's probably better than nothing.
The second type, although popular, is also limited in its protection. This one is designed to be immersed in hot water, and then formed in the mouth using finger, tongue and bite pressure. If it can be made to fit adequately, it's probably better than the first type — though it often lacks proper extensions, and fails to cover the back teeth. Also, upon impact, the rubber-like material will distort and not offer as much protection as you would like to have.
The third is a piece of quality sports equipment that's custom-made for your child's mouth (or your own). To fabricate this mouthguard, we first make a model of the individual's teeth, and then mold the protector to fit just right. Made from tough, high-quality material, it's designed to cover all teeth, back and front, without being excessively bulky. It can even be made to accommodate growing teeth and jaws. And, it's reasonable in cost.
To paraphrase the ADA's recommendation, the best mouthguard is the one you wear. A comfortable, correctly-fitted mouthguard is easy to wear — and it can help prevent dental injury, giving you one less thing to worry about. Now, if you could just get you child to keep her eye on the ball.
If you have questions about mouthguards or sports-related dental injuries, please contact us or schedule an appointment for a consultation. You can learn more in the Dear Doctor magazine articles "Athletic Mouthguards" and "An Introduction to Sports Injuries & Dentistry."
By General, Cosmetic, Implant Dentistry
September 25, 2012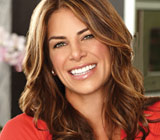 Protecting one's smile is important at any age. This is especially true for people who participate in contact sports or other activities where a trauma to the mouth can occur. While we all tend to believe that we are safe and that injuries "only happen to other people," we could not be further from the truth. Take, for example, Jillian Michaels, an accomplished author, business mogul, wellness expert, trainer and star of The Biggest Loser. She learned this invaluable lesson after breaking her two front teeth as a child and having them repaired with crowns. As Jillian stated in her interview with Dear Doctor magazine, "Now, I generally wear a mouthguard if I am doing anything where my teeth have any chance of being knocked out."
We feel obligated to educate our patients so that you can make informed decisions about your oral health. This is why we put together the following brief list of research findings.
Did you know?
According to the American Dental Association, an athlete is 60 times more likely to suffer harm to the teeth when not wearing a mouthguard.
The US Centers for Disease Control reports that sports-related dental injuries account for more than 600,000 visits to the emergency room each year.
People who do not have a knocked-out tooth properly reserved or replanted may face a lifetime cost of $10,000 to $20,000 per tooth, according to the National Youth Sports Foundation for Safety.
The Academy of General Dentistry estimates that mouthguards prevent more than 200,000 injuries each year.
If feel you and/or your children need a custom-fitted, professionally made mouthguard, contact us today to schedule an appointment. During your private consultation, we will conduct a thorough examination, listen to your concerns, and answer all of your questions as we discuss the best methods for protecting your investment — your own, or your children's, teeth.
To learn more about mouthguards, continue reading the Dear Doctor magazine article "Athletic Mouthguards, One of the most important parts of any uniform!" And to read the entire interview with Jillian Michaels, please see the article "Jillian Michaels — The Biggest Loser's health and wellness expert talks about her oral health, keeping fit and plans for the future."
Fedele E. Vero, D.D.S., P.C.
Christine N. Fumo, D.M.D.
Alec J. Ganci, D.D.S
Yonkers, NY Family Dentist
General, Cosmetic and Implant Dentistry
626 McLean Avenue




Yonkers

,

NY

10705
(914) 476-0100